Show production programme
Trurnit-aluminium groove shank nails with neoprene washer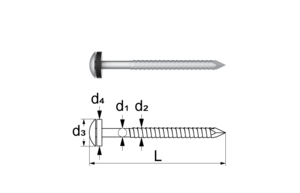 Aluminium groove shank nails with dome head have the same positive material properties as our aluminium round wire nails but due to the barbed thread have a higher extraction value than nails with a smooth shaft.
In combination with the neoprene washer, they are very well-suited for fastening of aluminium signs, sheets or profiles on wooden surfaces. The neoprene washer seals the nail holes permanently and protects from moisture entering the nail hole.
The surface of the nail is stained for additional corrosion resistance.
Dimensions and variants
ALUMINIUM
Dimension
Packing unit
Variant / Item No.
d1
mm
d2
mm
L
mm
d head
mm
s x d washer
mm
pcs/box
weight in kg
per 1.000 pcs
Aluminium
4,5
4,8
30
11,5
2,5 x 11
250
1,60
55 45 48 030
4,5
4,8
35
11,5
2,5 x 11
250
1,80
55 45 48 035
4,5
4,8
40
11,5
2,5 x 11
250
2,00
55 45 48 040
4,5
4,8
45
11,5
2,5 x 11
250
2,20
55 45 48 045
4,5
4,8
50
11,5
2,5 x 11
250
2,40
55 45 48 050
4,5
4,8
55
11,5
2,5 x 11
250
2,70
55 45 48 055
4,5
4,8
60
11,5
2,5 x 11
250
2,90
55 45 48 060
5,0
5,3
50
13,0
3,0 x 13
250
3,00
55 50 53 050
5,0
5,3
55
13,0
3,0 x 13
250
3,30
55 50 53 055
5,0
5,3
60
13,0
3,0 x 13
250
3,60
55 50 53 060
5,0
5,3
65
13,0
3,0 x 13
250
4,00
55 50 53 065
5,0
5,3
70
13,0
3,0 x 13
250
4,30
55 50 53 070
5,0
5,3
75
13,0
3,0 x 13
250
4,50
55 50 53 075
5,0
5,3
80
13,0
3,0 x 13
250
4,70
55 50 53 080
5,0
5,3
85
13,0
3,0 x 13
250
4,90
55 50 53 085
5,0
5,3
90
13,0
3,0 x 13
250
5,20
55 50 53 090
5,0
5,3
100
13,0
3,0 x 13
250
5,60
55 50 53 100
5,0
5,3
110
13,0
3,0 x 13
250
6,20
55 50 53 110
5,0
5,3
120
13,0
3,0 x 13
250
6,70
55 50 53 120