Show production programme
Trurnit-screw shank nails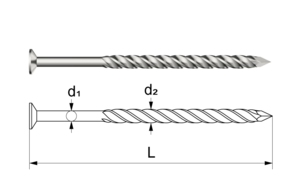 Screw shank nails combine the advantages of a nail with those of a wood screw.
They are inserted with a hammer or nail equipment as any other nail but reach much better extraction values (PDF) in wood than nails with a smooth shank.
The nails screw themselves into the material what avoids splitting and means a huge advantage especially in hard wood.
Most of the wood fibres are only displaced by the screw nail and not destroyed and will, as a result, return to their original position as much as possible within a few days, which increases the friction value inside the wood.
The screw nail can rotate freely due to the thread-free portion below the head and can be "tightened" like a wood screw.
This enables the highest possible degree of contact pressure. The countersunk head also ensures seamless processing.
Screw nails are manufactured in machine quality.
Dimensions and variants
IRON STEEL (bright, electro galvanized)
Dimension
Packing unit
Variant / Item No.
d1
mm
d2
mm
L
mm
pcs/box
weight in kg
per 1.000 pcs
bright
electro galvanized
1,8
2,0
15
1.000
0,45
11 18 20 015
12 18 20 015
1,8
2,0
20
1.000
0,50
11 18 20 020
12 18 20 020
1,8
2,0
25
1.000
0,60
11 18 20 025
12 18 20 025
1,8
2,0
30
1.000
0,65
11 18 20 030
12 18 20 030
1,8
2,0
35
1.000
0,70
11 18 20 035
12 18 20 035
2,0
2,2
15
1.000
0,65
11 20 22 015
12 20 22 015
2,0
2,2
20
1.000
0,70
11 20 22 020
12 20 22 020
2,0
2,2
25
1.000
0,75
11 20 22 025
12 20 22 025
2,0
2,2
30
1.000
0,80
11 20 22 030
12 20 22 030
2,0
2,2
35
1.000
0,90
11 20 22 035
12 20 22 035
2,2
2,5
15
1.000
0,75
11 22 25 015
12 22 25 015
2,2
2,5
20
1.000
0,80
11 22 25 020
12 22 25 020
2,2
2,5
25
1.000
0,90
11 22 25 025
12 22 25 025
2,2
2,5
30
1.000
0,95
11 22 25 030
12 22 25 030
2,2
2,5
35
1.000
1,00
11 22 25 035
12 22 25 035
2,2
2,5
40
1.000
1,10
11 22 25 040
12 22 25 040
2,5
3,0
20
1.000
1,00
11 25 30 020
12 25 30 020
2,5
3,0
25
1.000
1,10
11 25 30 025
12 25 30 025
2,5
3,0
30
1.000
1,20
11 25 30 030
12 25 30 030
2,5
3,0
35
1.000
1,35
11 25 30 035
12 25 30 035
2,5
3,0
40
1.000
1,50
11 25 30 040
12 25 30 040
2,5
3,0
45
1.000
1,75
11 25 30 045
12 25 30 045
2,8
3,6
25
1.000
1,20
11 28 36 025
12 28 36 025
2,8
3,6
30
1.000
1,50
11 28 36 030
12 28 36 030
2,8
3,6
35
1.000
1,70
11 28 36 035
12 28 36 035
2,8
3,6
40
1.000
1,90
11 28 36 040
12 28 36 040
2,8
3,6
45
1.000
2,20
11 28 36 045
12 28 36 045
2,8
3,6
50
1.000
2,40
11 28 36 050
12 28 36 050
2,8
3,6
55
1.000
2,60
11 28 36 055
12 28 36 055
2,8
3,6
60
1.000
2,90
11 28 36 060
12 28 36 060
3,1
4,0
40
500
2,70
11 31 40 040
12 31 40 040
3,1
4,0
45
500
3,00
11 31 40 045
12 31 40 045
3,1
4,0
50
500
3,30
11 31 40 050
12 31 40 050
3,1
4,0
55
500
3,60
11 31 40 055
12 31 40 055
3,1
4,0
60
500
3,80
11 31 40 060
12 31 40 060
3,1
4,0
65
500
3,90
11 31 40 065
12 31 40 065
3,1
4,0
70
500
4,20
11 31 40 070
12 31 40 070
3,6
4,5
50
500
4,30
11 36 45 050
12 36 45 050
3,6
4,5
55
500
4,70
11 36 45 055
12 36 45 055
3,6
4,5
60
500
5,20
11 36 45 060
12 36 45 060
3,6
4,5
65
500
5,70
11 36 45 065
12 36 45 065
3,6
4,5
70
500
6,00
11 36 45 070
12 36 45 070
3,6
4,5
75
500
6,50
11 36 45 075
12 36 45 075
3,6
4,5
80
500
7,00
11 36 45 080
12 36 45 080
4,2
5,0
50
500
6,00
11 42 50 050
12 42 50 050
4,2
5,0
55
500
6,30
11 42 50 055
12 42 50 055
4,2
5,0
60
500
6,90
11 42 50 060
12 42 50 060
4,2
5,0
65
500
7,50
11 42 50 065
12 42 50 065
4,2
5,0
70
500
8,00
11 42 50 070
12 42 50 070
4,2
5,0
75
500
8,50
11 42 50 075
12 42 50 075
4,2
5,0
80
500
9,00
11 42 50 080
12 42 50 080
4,2
5,0
85
500
9,30
11 42 50 085
12 42 50 085
4,2
5,0
90
500
10,00
11 42 50 090
12 42 50 090
4,2
5,0
95
500
10,50
11 42 50 095
12 42 50 095
4,2
5,0
100
250
11,00
11 42 50 100
12 42 50 100
5,2
6,0
60
250
10,50
11 52 60 060
12 52 60 060
5,2
6,0
70
250
12,00
11 52 60 070
12 52 60 070
5,2
6,0
80
250
14,50
11 52 60 080
12 52 60 080
5,2
6,0
90
250
15,00
11 52 60 090
12 52 60 090
5,2
6,0
100
250
17,50
11 52 60 100
12 52 60 100
5,2
6,0
110
250
19,50
11 52 60 110
12 52 60 110
5,2
6,0
120
250
20,50
11 52 60 120
12 52 60 120
5,2
6,0
130
250
22,00
11 52 60 130
12 52 60 130
5,2
6,0
140
250
24,00
11 52 60 140
12 52 60 140
5,2
6,0
150
250
26,00
11 52 60 150
12 52 60 150
5,2
6,0
160
250
28,00
11 52 60 160
12 52 60 160
STAINLESS STEEL
Dimension
Packing unit
Variant / Item No.
d1
mm
d2
mm
L
mm
pcs/box
weight in kg
per 1.000 pcs
1.4301 (A2)
AISI 304
1.4401 (A4)
AISI 316L
2,0
2,2
20
1.000
0,70
31 20 22 020
41 20 22 020
2,0
2,2
25
1.000
0,75
31 20 22 025
41 20 22 025
2,0
2,2
30
1.000
0,80
31 20 22 030
41 20 22 030
2,0
2,2
35
1.000
0,90
31 20 22 035
41 20 22 035
2,2
2,5
20
1.000
0,80
31 22 25 020
41 22 25 020
2,2
2,5
25
1.000
0,90
31 22 25 025
41 22 25 025
2,2
2,5
30
1.000
0,95
31 22 25 030
41 22 25 030
2,2
2,5
35
1.000
1,00
31 22 25 035
41 22 25 035
2,2
2,5
40
1.000
1,10
31 22 25 040
41 22 25 040
2,5
3,0
20
1.000
1,00
31 25 30 020
41 25 30 020
2,5
3,0
25
1.000
1,10
31 25 30 025
41 25 30 025
2,5
3,0
30
1.000
1,20
31 25 30 030
41 25 30 030
2,5
3,0
35
1.000
1,35
31 25 30 035
41 25 30 035
2,5
3,0
40
1.000
1,50
31 25 30 040
41 25 30 040
2,5
3,0
45
1.000
1,75
31 25 30 045
41 25 30 045
2,8
3,4
25
1.000
1,20
31 28 34 025
41 28 34 025
2,8
3,4
30
1.000
1,50
31 28 34 030
41 28 34 030
2,8
3,4
35
1.000
1,70
31 28 34 035
41 28 34 035
2,8
3,4
40
1.000
1,90
31 28 34 040
41 28 34 040
2,8
3,4
45
1.000
2,20
31 28 34 045
41 28 34 045
2,8
3,4
50
1.000
2,40
31 28 34 050
41 28 34 050
2,8
3,4
55
1.000
2,60
31 28 34 055
41 28 34 055
2,8
3,4
60
1.000
2,90
31 28 34 060
41 28 34 060
2,8
3,4
65
1.000
3,00
31 28 34 065
41 28 34 065
3,1
3,8
40
500
2,70
31 31 38 040
41 31 38 040
3,1
3,8
45
500
3,00
31 31 38 045
41 31 38 045
3,1
3,8
50
500
3,30
31 31 38 050
41 31 38 050
3,1
3,8
55
500
3,60
31 31 38 055
41 31 38 055
3,1
3,8
60
500
3,80
31 31 38 060
41 31 38 060
3,1
3,8
65
500
3,90
31 31 38 065
41 31 38 065
3,1
3,8
70
500
4,20
31 31 38 070
41 31 38 070
3,1
3,8
80
250
4,80
31 31 38 080
41 31 38 080
3,6
4,0
50
250
4,30
31 36 40 050
41 36 40 050
3,6
4,0
55
250
4,70
31 36 40 055
41 36 40 055
3,6
4,0
60
250
5,20
31 36 40 060
41 36 40 060
3,6
4,0
65
250
5,70
31 36 40 065
41 36 40 065
3,6
4,0
70
250
6,00
31 36 40 070
41 36 40 070
3,6
4,0
75
250
6,50
31 36 40 075
41 36 40 075
3,6
4,0
80
250
7,00
31 36 40 080
41 36 40 080
4,2
4,8
50
250
6,00
31 42 48 050
41 42 48 050
4,2
4,8
55
250
6,30
31 42 48 055
41 42 48 055
4,2
4,8
60
250
6,90
31 42 48 060
41 42 48 060
4,2
4,8
65
250
7,50
31 42 48 065
41 42 48 065
4,2
4,8
70
250
8,00
31 42 48 070
41 42 48 070
4,2
4,8
75
250
8,50
31 42 48 075
41 42 48 075
4,2
4,8
80
250
9,00
31 42 48 080
41 42 48 080
4,2
4,8
85
250
9,30
31 42 48 085
41 42 48 085
4,2
4,8
90
250
10,00
31 42 48 090
41 42 48 090
4,2
4,8
95
250
10,50
31 42 48 095
41 42 48 095
4,2
4,8
100
250
11,00
31 42 48 100
41 42 48 100
5,2
6,0
90
250
15,00
31 52 60 090
41 52 60 090
5,2
6,0
100
250
17,50
31 52 60 100
41 52 60 100
5,2
6,0
110
250
19,50
31 52 60 110
41 52 60 110
5,2
6,0
120
250
20,50
31 52 60 120
41 52 60 120
5,2
6,0
130
250
22,50
31 52 60 130
41 52 60 130