Show production programme
Trurnit-big head screw shank nails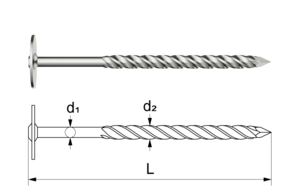 Big head screw shank nails are constructed similarly to big head nails with smooth shank but possess a wooden screw thread which more than doubles the extraction values (PDF).
The large head plate (d = approx. 20 mm) makes these nails particularly suitable for fastening soft and/or porous materials, such as lightweight boards, mesh, pressboards, roofing and wall insulation boards, plastic foams etc. through which a smaller nail head would sink.
Big head screw shank nails are not suitable for machine processing.
Dimensions and variants
IRON STEEL (elecro galvanized)
Dimension
Packing unit
Variant / Item No.
d1
mm
d2
mm
L
mm
pcs/box
weight in kg
per 1.000 pcs
electro galvanized
3,1
4,0
40
250
4,60
12 31 39 040
3,1
4,0
50
250
5,00
12 31 39 050
3,1
4,0
60
250
5,60
12 31 39 060
3,6
4,5
60
250
7,00
12 36 44 060
3,6
4,5
70
250
7,70
12 36 44 070
3,6
4,5
80
250
8,60
12 36 44 080
4,2
5,0
80
250
12,00
12 42 49 080
4,2
5,0
90
250
13,00
12 42 49 090
4,2
5,0
100
250
14,00
12 42 49 100