Show production programme
FT-Screw insert / bit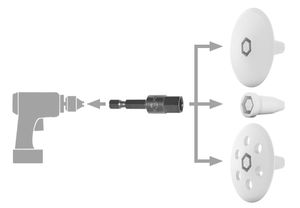 The screw insert is required in order to work with insulation screws DS and DK, insulation plaster screws DPS and insulation composite board screws DVS.
It fits exactly in the hexagonal driver in the screw head and provides optimum transfer of the cordless screwdriver to the screw. The screw insert does not wear and tear and can be used again and again.
We advise to use a screwdriver with adjustable friction clutch, which interrupts driving when the screw head seat solidly on the insulation material.
Recommended idling speed: ca. 500-600 revolutions/min.
Recommended load Speed: ca. 300-400 revolutions/min.
Please note that the screw insert is not included in the packing of the screws and needs to be ordered separately.
Art.-no. 22 34 07 010
Separately available.
Larger quantities: 5 pcs/polybag