Show production programme
FT-Insulation nail Type II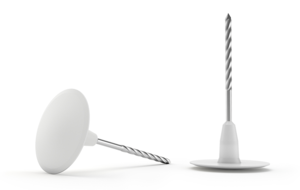 The insulation nails Type II consist of a zin-plated screw shank nail and a tightly moulded plastic head made from polypropylene.
The large plastic heads have a diameter of 50 mm and prevent of thermal bridges and condensation water. Insulation nails Type II are used for fastening insulation on solid wooden surfaces (e.g. beams).
The nails screw themselves into the material, what avoids splitting and means a huge advantage especially in hard wood.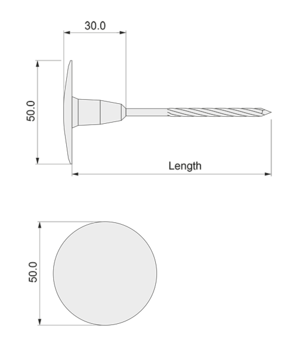 Since insulation nails Type II are inserted with a hammer, they are not suitable for fastening insulation on elastic wood constructions, such as wooden slats.
For this purpose, we recommend our insulation screws DS, DK or insulation plaster screws DPS.


The largest advantage of our insulation nails type II is the fact that they consist of one part only and not - like most competitive products - of 2-3 parts. That means no assembly and fumbling with holding on while turning in the screw. Our insulation nails can be used single-handedly. That saves time and money.
Dimensions and variants
IRON STEEL (zinc-plated)
Dimension
Packing unit
Variant / Item No.
Insulation size
in mm
Total length
in mm
pcs/box
Zinc-plated and yellow chromatised
40
70
250
12 36 17 040
50
80
250
12 36 17 050
60
90
250
12 36 17 060
80
110
250
12 36 17 080
100
130
250
12 36 17 100
120
150
250
12 36 17 120
STAINLESS STEEL 1.4301 (A2) / AISI 304
Dimension
Packing unit
Variant / Item No.
insulation thickness
in mm
total length
in mm
pack
Qty.
1.4301 (A2)
40
70
250
31 36 17 040
50
80
250
31 36 17 050
60
90
250
31 36 17 060
80
110
250
31 36 17 080
100
130
250
31 36 17 100
120
150
250
31 36 17 120