Show production programme
Trurnit-round wire nails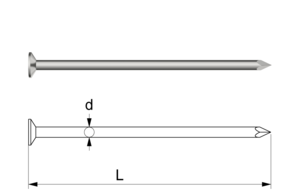 Round wire nails are common nails for general constructions needs.
Available head shapes:
Form A: flat head (plain)
Form B: countersunk head (checked)
Smooth shank nails have no deformations on the shanks, what makes them easy to drive. But they offer the least pull-out resistance when compares with screw shank nails or ring shank nails.
They are not suitable for machine processing.
For such purposes, we would recommend our round wire nails for machine processing.
Dimensions and variants
IRON STEEL (bright, electro galvanized, hot-dip galvanized)
Dimension
Packing unit
Variant / Item No.
d
mm
L
mm
kg/box
pcs/kg
bright
electro galvanized
hot-dip galvanized
0,9
13
1,0
18.000
11 09 51 013
12 09 51 013
----
1,0
15
1,0
10.000
11 10 51 015
12 10 51 015
----
1,2
20
1,0
5.500
11 12 51 020
12 12 51 020
----
1,4
25
1,0
3.100
11 14 51 025
12 14 51 025
----
1,4
30 *
1,0
2.800
11 14 51 030
12 14 51 030
----
1,6
30
1,0
2.100
11 16 51 030
12 16 51 030
----
1,6
35 *
1,0
1.600
11 16 51 035
12 16 51 035
----
1,8
35
1,0
1.400
11 18 51 035
12 18 51 035
----
1,8
40 *
2,5
1.200
11 18 51 040
12 18 51 040
----
2,0
40
2,5
1.000
11 20 51 040
12 20 51 040
13 20 51 040
2,0
45 *
2,5
850
11 20 51 045
12 20 51 045
13 20 51 045
2,2
45
2,5
700
11 22 51 045
12 22 51 045
13 22 51 045
2,2
50
2,5
650
11 22 51 050
12 22 51 050
13 22 51 050
2,2
55 *
2,5
570
11 22 51 055
12 22 51 055
13 22 51 055
2,5
55
2,5
500
11 25 51 055
12 25 51 055
13 25 51 055
2,5
60
2,5
430
11 25 51 060
12 25 51 060
13 25 51 060
2,8
60 *
2,5
345
11 28 51 060
12 28 51 060
13 28 51 060
2,8
65
2,5
335
11 28 51 065
12 28 51 065
13 28 51 065
3,1
65
5,0
265
11 31 51 065
12 31 51 065
13 31 51 065
3,1
70
5,0
250
11 31 51 070
12 31 51 070
13 31 51 070
3,1
80
5,0
220
11 31 51 080
12 31 51 080
13 31 51 080
3,4
80
5,0
180
11 34 51 080
12 34 51 080
13 34 51 080
3,4
90
5,0
160
11 34 51 090
12 34 51 090
13 34 51 090
3,8
100
5,0
110
11 38 51 100
12 38 51 100
13 38 51 100
4,2
100
5,0
90
11 42 51 100
12 42 51 100
13 42 51 100
4,2
110
5,0
85
11 42 51 110
12 42 51 110
13 42 51 110
4,2
120
5,0
75
11 42 51 120
12 42 51 120
13 42 51 120
4,2
130 *
5,0
68
11 42 51 130
12 42 51 130
13 42 51 130
4,6
130
5,0
45
11 46 51 130
12 46 51 130
13 46 51 130
5,5
140
5,0
38
11 55 51 140
12 55 51 140
13 55 51 140
5,5
160
5,0
32
11 55 51 160
12 55 51 160
13 55 51 160
6,0
180
5,0
20
11 60 51 180
12 60 51 180
13 60 51 180
7,0
210
5,0
15
11 70 51 210
12 70 51 210
13 70 51 210
7,6
230
5,0
10
11 76 51 230
12 76 51 230
13 76 51 230
7,6
260
5,0
9
11 76 51 260
12 76 51 260
13 76 51 260
8,8
260
5,0
8
11 88 51 260
12 88 51 260
13 88 51 260
* Dimensions are outside of DIN 1151
STAINLESS STEEL
Dimension
Packing unit
Variant / Item No.
d
mm
L
mm
kg/box
pcs/kg
1.4301 (A2)
AISI 304
1.4401 (A4)
AISI 316L
1,4
20 *
1,0
3.500
31 14 51 020
41 14 51 020
1,4
25
1,0
3.100
31 14 51 025
41 14 51 025
1,4
30 *
1,0
2.800
31 14 51 030
41 14 51 030
1,6
30
1,0
2.100
31 16 51 030
41 16 51 030
1,6
35 *
1,0
1.600
31 16 51 035
41 16 51 035
1,8
35
2,5
1.400
31 18 51 035
41 18 51 035
1,8
40 *
2,5
1.200
31 18 51 040
41 18 51 040
2,0
40
2,5
1.000
31 20 51 040
41 20 51 040
2,0
45 *
2,5
850
31 20 51 045
41 20 51 045
2,2
45
2,5
700
31 22 51 045
41 22 51 045
2,2
50
2,5
650
31 22 51 050
41 22 51 050
2,2
55
2,5
570
31 22 51 055
41 22 51 055
2,5
55
2,5
500
31 25 51 055
41 25 51 055
2,5
60
2,5
430
31 25 51 060
41 25 51 060
2,8
60
2,5
345
31 28 51 060
41 28 51 060
2,8
65
2,5
335
31 28 51 065
41 28 51 065
3,1
65
5,0
265
31 31 51 065
41 31 51 065
3,1
70
5,0
250
31 31 51 070
41 31 51 070
3,1
80
5,0
220
31 31 51 080
41 31 51 080
3,4
80
5,0
180
31 34 51 080
41 34 51 080
3,4
90
5,0
160
31 34 51 090
41 34 51 090
3,6
80 *
5,0
155
31 36 51 080
41 36 51 080
3,6
90 *
5,0
135
31 36 51 090
41 36 51 090
3,6
100 *
5,0
125
31 36 51 100
41 36 51 100
3,8
100
5,0
110
31 38 51 100
41 38 51 100
4,2
100
5,0
90
31 42 51 100
41 42 51 100
4,2
110
5,0
85
31 42 51 110
41 42 51 110
4,2
120
5,0
75
31 42 51 120
41 42 51 120
4,6
130
5,0
68
31 46 51 130
41 46 51 130
5,5
140
5,0
38
31 55 51 140
41 55 51 140
5,5
160
5,0
32
31 55 51 160
41 55 51 160
6,0
180
5,0
20
31 60 51 180
41 60 51 180
7,0
210
5,0
15
31 70 51 210
----
7,6
230
5,0
10
31 76 51 230
----
7,6
260
5,0
9
31 76 51 260
----
8,8
260
5,0
8
31 88 51 260
----
* Dimensions are outside of DIN 1151