Show production programme
FT-Insulation board composite screw DVS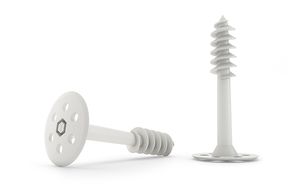 Based on the special material mixture, the Insulation board spiral screw DVS is both: strong and extensile.
In condition to those characteristics in combination with the coarse thread and big head, the spiral screw can be used for various prospects:
- connecting rigid foam elements/module
- fixing insulation boards on gas concrete (pre-drill / Ø18-20 mm)
- double insulations, which are mechanical fixed to underground (e.g. rigid foam boards or wood fibre insulation boards)
The tightly moulded, perforated and roughened head gives plastering a good grip.
The Insulation board spiral screws DVS are used with a cordless screwdriver and a special bit which fits exactly into the hexagonal recess and transfers the force perfectly onto the screw. We advise to use a screwdriver with adjustable friction clutch, which interrupts driving when the screw head seat solidly on the insulation material.
Recommended idling speed: ca. 500-600 revolution/min.
Recommended load speed: ca. 300-400 revolutions/min.

Dimensions and variants
Dimensions
Dimension
Packing unit
Variant / Item No.
Insulation size
in mm
Total length
in mm
pcs/box
Item No.
30
80
250
12 36 16 030
60
110
250
12 36 16 060
80
130
250
12 36 16 080