Show production programme
Trurnit-rafter nails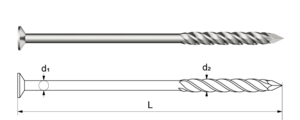 Differently to the most ring shank rafter nails made of common iron steel, our rafter nails are made of spring steel wire with a resistance of min. 1.200 N/mm² (!), and a screw shank.
Based on this very hard material they are ideal for long sizes up to 300 mm!
And the screw shank makes them perfekt especially for hard wood, because they follow their thread while beeing driven with a hammer and screw themselves into the wood. That avoids splitting.
Screw shank nails made of spring steel wire are not suitable for machine processing.
Dimensions and variants
SPRING STEEL (electro galvanized)
Dimension
Packing unit
Variant / Item No.
d1
mm
d2
mm
L
mm
header-
tag
pcs/box
weight in kg
per 1.000 pcs
electro galvanized
5,2
6,3
80
-
250
14,00
12 52 63 080
5,2
6,3
100
-
250
18,00
12 52 63 100
5,2
6,3
110
-
250
19,00
12 52 63 110
5,2
6,3
120
-
250
20,00
12 52 63 120
5,2
6,3
130
1
250
22,00
12 52 63 130
5,2
6,3
140
2
250
24,00
12 52 63 140
5,2
6,3
150
3
250
25,00
12 52 63 150
5,2
6,3
180
4
100
30,00
12 52 63 180
5,2
6,3
210
5
100
35,00
12 52 63 210
5,2
6,3
230
6
100
40,00
12 52 63 230
5,2
6,3
260
7
100
44,00
12 52 63 260
5,2
6,3
280
8
100
47,00
12 52 63 280
5,2
6,3
300
9
100
50,00
12 52 63 300